In the framework of the ERC advanced research project QUEST, we have developed a versatile high-frequency setup that works in the frequency window 1-10 GHz and allows for high-resolution reflectance and noise measurements. In order to apply this to high impedance devices, such as quantum dots, we have developed impedance matching circuits based on on-chip coplanar transmission line resonators, so called stub-tuners, as well as LC circuits.1 Recently, a second setup has been added. The new high-frequency setups are very powerful as they allows us to measure the radiation emitted from a device, i.e. to do noise measurements and noise correlations. But additionally, they also enables us to measure the ac admittance of a device at GHz frequencies and to perform dispersive readout of double quantum-dot charge qubits.2 First, due to the high frequency a large bandwidth is available, allowing for fast measurements. On top of this, the rf measurement is also sensitive to the capacitive / inductive part of a device, which can conveniently be measured by monitoring frequency shifts.2 We have embarked on this and have studied simple QDs, double QDs and recently also graphene pn junctions.3 In addition, we are also in the position to drive devices at high frequency. We have, for example, demonstrated charge pumping in a SNW QD device at GHz frequency.4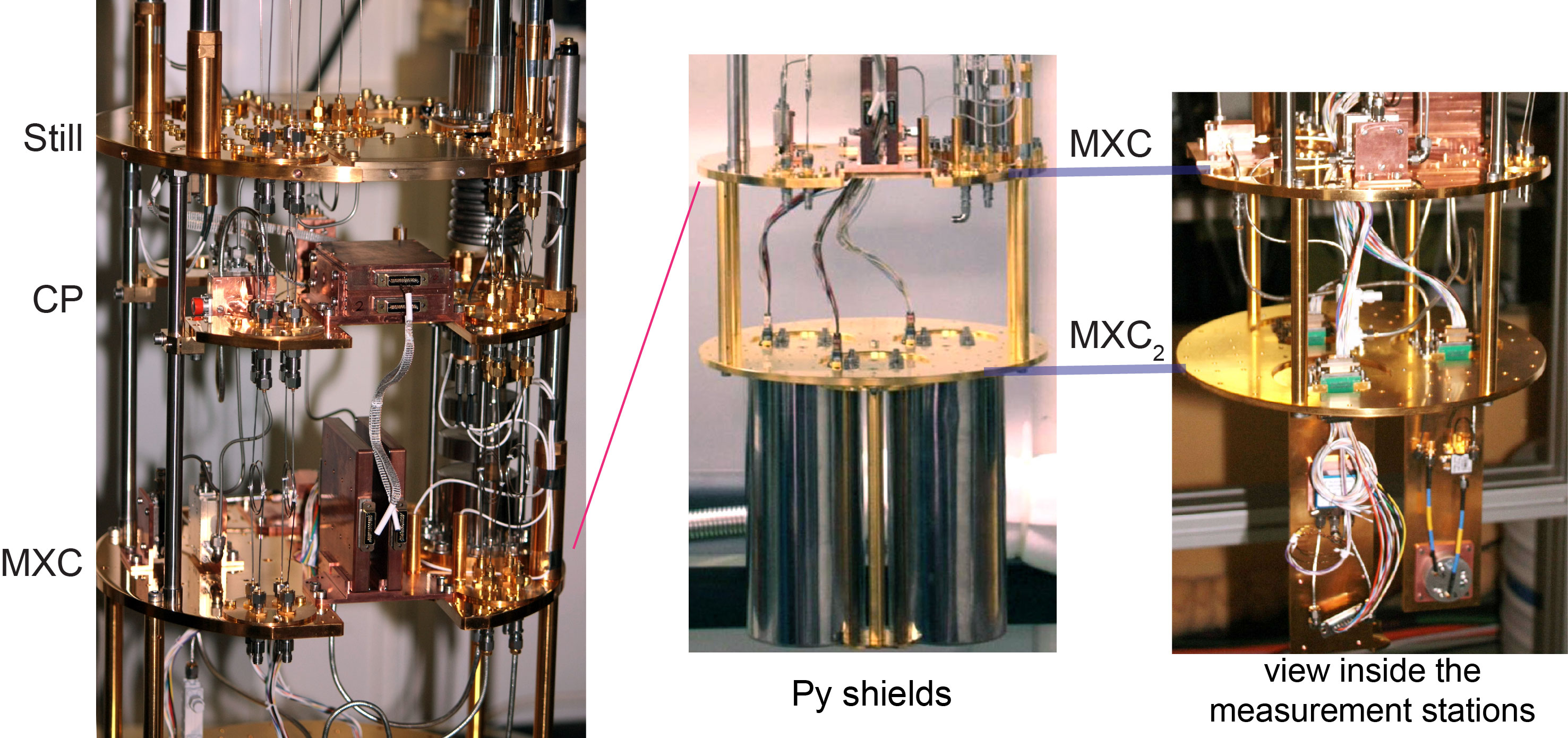 T. Hasler, M. Jung, V. Ranjan, G. Puebla-Hellmann, A. Wallraff and CS, Phys. Rev. Appl. 4 (5), 054002 (2015).
V. Ranjan, G. Puebla-Hellmann, M. Jung, T. Hasler, A. Nunnenkamp, M. Muoth, C. Hierold, A. Wallraff and CS, Nat. Commun. 6, 7165 (2015).
V. Ranjan, S. Zihlmann, P. Makk, K. Watanabe, T. Taniguchi, C. Schönenberger, Phys. Rev. Appl. 7, 54015 (2017).
S. d'Hollosy, M. Jung, A. Baumgartner, V. A. Guzenko, M. H. Madsen, J. Nygard and CS, Nano Lett. 15 (7), 4585-4590 (2015).
Funding: ERC-QUEST     keyword: QUEST
2018
2017
2015
2014