Ballistic graphene offers a promising platform for electron optical devices. We have developed a versatile technology that allows to suspend graphene and complement it with arbitrary bottom and top-gate structures.1 Using current annealing we demonstrated exceptional high nobilities approaching 102 m2/Vs. These suspended devices are ballistic over micrometer length scales and display intriguing interference patterns in the electrical conductance when different gate potentials and magnetic fields are applied.2 There are great similarities between the propagation of light in a dielectric and electrons in graphene, but also differences. In particular, a negative refractive index is straightforward to realize in graphene, but hard in optics. We have used pn junctions to define an electron waveguide by electrostatics3 and guide electrons in snake-states due to alternating cyclotron motion in a small magnetic field,4 to realized mirrors and momentum filters,2 beam splitters5 and Fabry-Perot-like cavities as well as more complex interferometers.
Bilayer graphene is an exciting material, widely extending the range of phenomena compared to monolayer graphene, due its massive nature and much larger interaction parameter. In bilayer graphene a gap can be opened by applying a potential difference between the two layers, for example. Furthermore, the eight-fold ground-state degeneracy of the zero-energy Landau level provides a large Hilbert space, where interaction is expected to lift the degeneracy resulting in novel composite particles. We have discovered that the ground-state in undoped ultraclean high-mobility bilayer graphene is gapped in the absence of magnetic and electric field.6 The new phase, which spontaneously appears driven by interactions, was latter assigned to an antiferromagnetic one. We have also seen recently that a gap appears, albeit much weaker, for graphene with four layers, but it is absent in graphene with a odd layer number.
In current projects we use high-quality h-BN encapsulated graphene and study superlattice effects induced by lattice of the substrate.7 We further work extensively on superconducting graphene devices with side contacts. We have realized Josephson junctions with sputter superconducting films. We also explore isospin currents due to valley effects using pn junctions and suspended graphene where we aim to control the strain in latter with the goal to realize a valley physics with a pseudomagnetic field.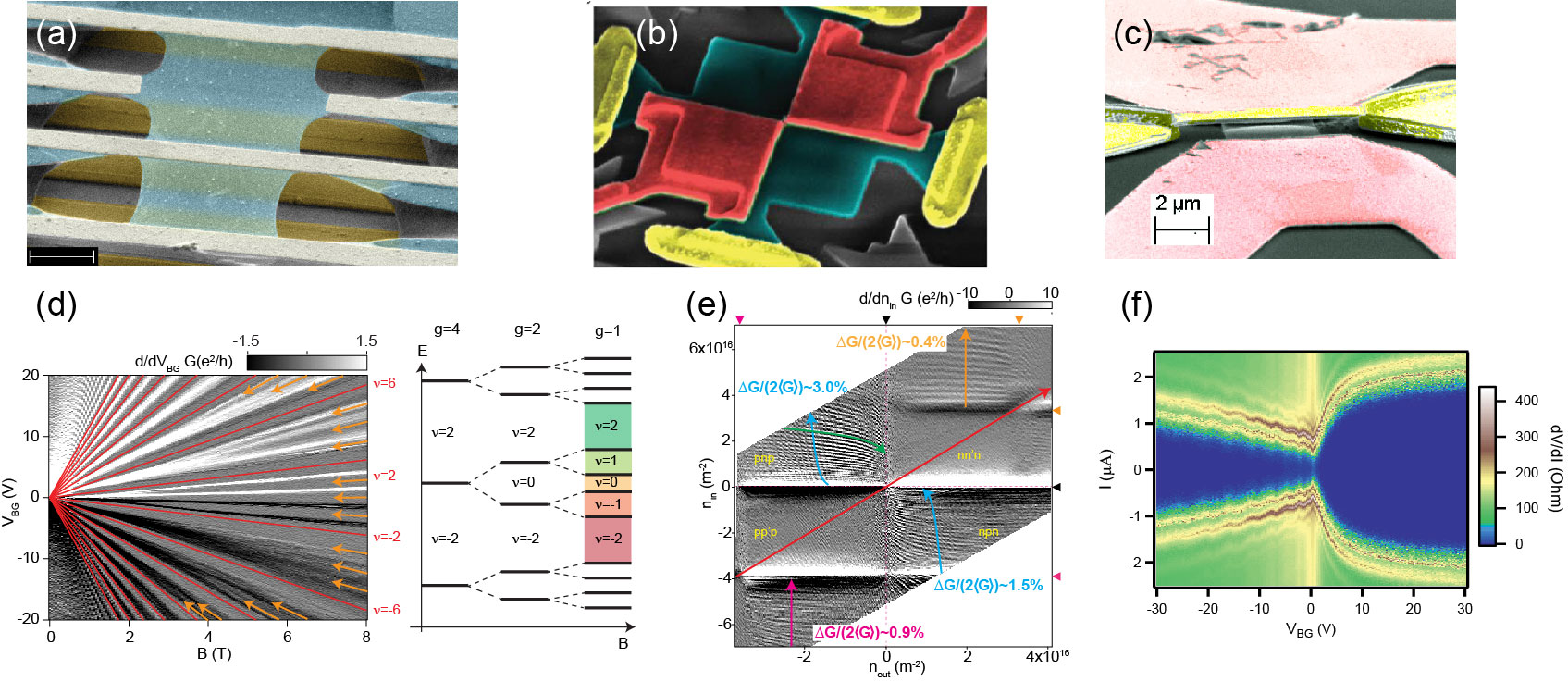 Funding: NCCR-QSIT, SNI
R. Maurand, P. Rickhaus, P. Makk, S. Hess, E. Tovari, C. Handschin, M. Weiss and CS, Carbon 79, 486 (2014).
P. Rickhaus, R. Maurand, M. H. Liu, M. Weiss, K. Richter and CS, Nat. Commun. 4, 2342 (2013).
P. Rickhaus, M. H. Liu, P. Makk, R. Maurand, S. Hess, S. Zihlmann, M. Weiss, K. Richter and CS, Nano Lett. 15 (9), 5819-5825 (2015).
P. Rickhaus, P. Makk, M. H. Liu, E. Tovari, M. Weiss, R. Maurand, K. Richter and CS, Nat. Commun. 6, 6470 (2015).
P. Rickhaus, P. Makk, M. H. Liu, K. Richter and CS, Appl. Phys. Lett. 107 (25), 251901 (2015).
F. Freitag, J. Trbovic, M. Weiss and CS, Phys. Rev. Lett. 108 (6), 076602 (2012).
C. Handschin, P.Makk, P. Rickhaus, M.-H. Liu, K. Watanabe, T. Taniguchi, K. Richter, C. Schönenberger, Nano Lett. 17, 328 (2016).
Relevant papers (keyword: GRAPHENE):
2019
2018
2017
2016
2015
2014
2013
Hydrogen plasma microlithography of graphene supported on a Si/SiO2 substrate
B. Eren, T. Glatzel, M. Kisiel, W. Fu, R. Pawlak, U. Gysin, C. Nef, L. Marot, M. Calame, C. Schönenberger, and E. Meyer.
Appl. Phys. Lett., 102:71601, 2013.
[Abstract]


In this work, a silicon stencil mask with a periodic pattern is used for hydrogen plasma microlithography of single layer graphene supported on a Si/SiO2 substrate. Obtained patterns are imaged with Raman microscopy and Kelvin probe force microscopy, thanks to the changes in the vibrational modes and the contact potential difference (CPD) of graphene after treatment. A decrease of 60 meV in CPD as well as a significant change of the D/G ratio in the Raman spectra can be associated with a local hydrogenation of graphene, while the topography remains invariant to the plasma exposure.

Ballistic interferences in suspended graphene
P. Rickhaus, R. Maurand, M. Weiss, C. Schönenberger, Ming-Hao Liu, and K. Richter.
Nature communications, 4(2342):1-6, 2013.
[Abstract]


Graphene is the 2-dimensional (2D) carbon allotrope with the atoms arranged in a honeycomb lattice [1]. The low-energy electronic excitations in this 2D crystal are described by massless Dirac fermions that have a linear dispersion relation similar to photons [2, 3]. Taking advantage of this optics-like electron dynamics, generic optical elements like lenses, beam splitters and wave guides have been proposed for electrons in engineered and ballistic graphene [4, 5]. Tuning of these elements rely on the ability to adjust the carrier concentration in defined areas, including the possibility to create bipolar regions of opposite charge (p-n regions). However, the combination of ballistic transport and complex electrostatic gating remain challenging. Here, we report on the fabrication and characterization of fully suspended graphene p-n junctions. By local electrostatic gating, resonant cavities can be defined, leading to complex Fabry-Perot interference patterns in the unipolar and the bipolar regime. The amplitude of the observed conductance oscillations account for quantum interference of electrons that propagate ballistically over long distances exceeding 1 micrometer. We also demonstrate that the visibility of the interference pattern is enhanced by Klein collimation at the p-n interface [6, 7]. This finding paves the way to more complex gate controlled ballistic graphene devices and brings electron optics in graphene closer to reality.

Low-bias active control of TeraHertz-waves by coupling large-area CVD-graphene to a TeraHertz-Metamaterial
F. Valmorra, G. Scalari, C. Maissen, W. Fu, C. Schönenberger, J. W. Choi, H. G. Park, Hyung Gyu, M. Beck, and J. Faist.
Nano Lett., 13:3193-3198, 2013.
Spin Symmetry of the Bilayer Graphene Groundstate
F. Freitag, M. Weiss, R. Maurand, J. Trbovic, and C. Schönenberger.
Phys. Rev. B, 87:161402, 2013.
[Abstract]


We show nonlinear transport experiments on clean, suspended bilayer graphene that reveal a gap in the density of states. Looking at the evolution of the gap in magnetic fields of different orientation, we find that the groundstate is a spin-ordered phase. Of the three possible gapped groundstates that are predicted by theory for equal charge distribution between the layers, we can therefore exclude the quantum anomalous Hall phase, leaving the layer antiferromagnet and the quantum spin Hall phase as the only possible gapped groundstates for bilayer graphene
2012
Homogeneity of Bilayer Graphene
F. Freitag, M. Weiss, R. Maurand, J. Trbovic, and C. Schönenberger.
Solid State Communications, 152:2053-2057, Sept. 2012. arXiv:1207.4424
[Abstract]


We present non-linear transport measurements on suspended, current annealed bilayer graphene devices. Using a multi-terminal geometry we demonstrate that devices tend to be inhomogeneous and host two different electronic phases next to each other. Both of these phases show gap-like features of different magnitude in non-linear transport at low charge carrier densities, as already observed in previous studies. Here, we investigate the magnetic field dependence and find that both features grow with increasing field, the smaller one with 0.6meV/T, the larger one with a 5-10 times higher field dependence. We attribute the larger of the two gaps to an interaction induced broken symmetry state and the smaller one to localization in the more disordered parts of the device.

Spontaneously Gapped Ground State in Suspended Bilayer Graphene
F. Freitag, J. Trbovic, M. Weiss, and C. Schönenberger.
Phys. Rev. Lett., 108:76602, 2012.
Quantum Hall Effect in Graphene with Superconducting Electrodes
P. Rickhaus, M. Weiss, L. Marot, and C. Schönenberger.
Nano Letters, 12:1942, 2012.
2011
Conductance fluctuations in graphene devices with superconducting contacts in different charge density regimes
F. Freitag, J. Trbovic, and C. Schönenberger.
Phys. Status Solidi B (arXiv:1108.4599), 248:2649, 2011.
2010
Superconductivity-enhanced conductance fluctuations in few layer graphene
J. Trbovic, N. Minder, F. Freitag, and C. Schönenberger.
Nanotechnology, 21:274005, 2010.