Ballistic graphene offers a promising platform for electron optical devices. We have developed a versatile technology that allows to suspend graphene and complement it with arbitrary bottom and top-gate structures.1 Using current annealing we demonstrated exceptional high nobilities approaching 102 m2/Vs. These suspended devices are ballistic over micrometer length scales and display intriguing interference patterns in the electrical conductance when different gate potentials and magnetic fields are applied.2 There are great similarities between the propagation of light in a dielectric and electrons in graphene, but also differences. In particular, a negative refractive index is straightforward to realize in graphene, but hard in optics. We have used pn junctions to define an electron waveguide by electrostatics3 and guide electrons in snake-states due to alternating cyclotron motion in a small magnetic field,4 to realized mirrors and momentum filters,2 beam splitters5 and Fabry-Perot-like cavities as well as more complex interferometers.
Bilayer graphene is an exciting material, widely extending the range of phenomena compared to monolayer graphene, due its massive nature and much larger interaction parameter. In bilayer graphene a gap can be opened by applying a potential difference between the two layers, for example. Furthermore, the eight-fold ground-state degeneracy of the zero-energy Landau level provides a large Hilbert space, where interaction is expected to lift the degeneracy resulting in novel composite particles. We have discovered that the ground-state in undoped ultraclean high-mobility bilayer graphene is gapped in the absence of magnetic and electric field.6 The new phase, which spontaneously appears driven by interactions, was latter assigned to an antiferromagnetic one. We have also seen recently that a gap appears, albeit much weaker, for graphene with four layers, but it is absent in graphene with a odd layer number.
In current projects we use high-quality h-BN encapsulated graphene and study superlattice effects induced by lattice of the substrate.7 We further work extensively on superconducting graphene devices with side contacts. We have realized Josephson junctions with sputter superconducting films. We also explore isospin currents due to valley effects using pn junctions and suspended graphene where we aim to control the strain in latter with the goal to realize a valley physics with a pseudomagnetic field.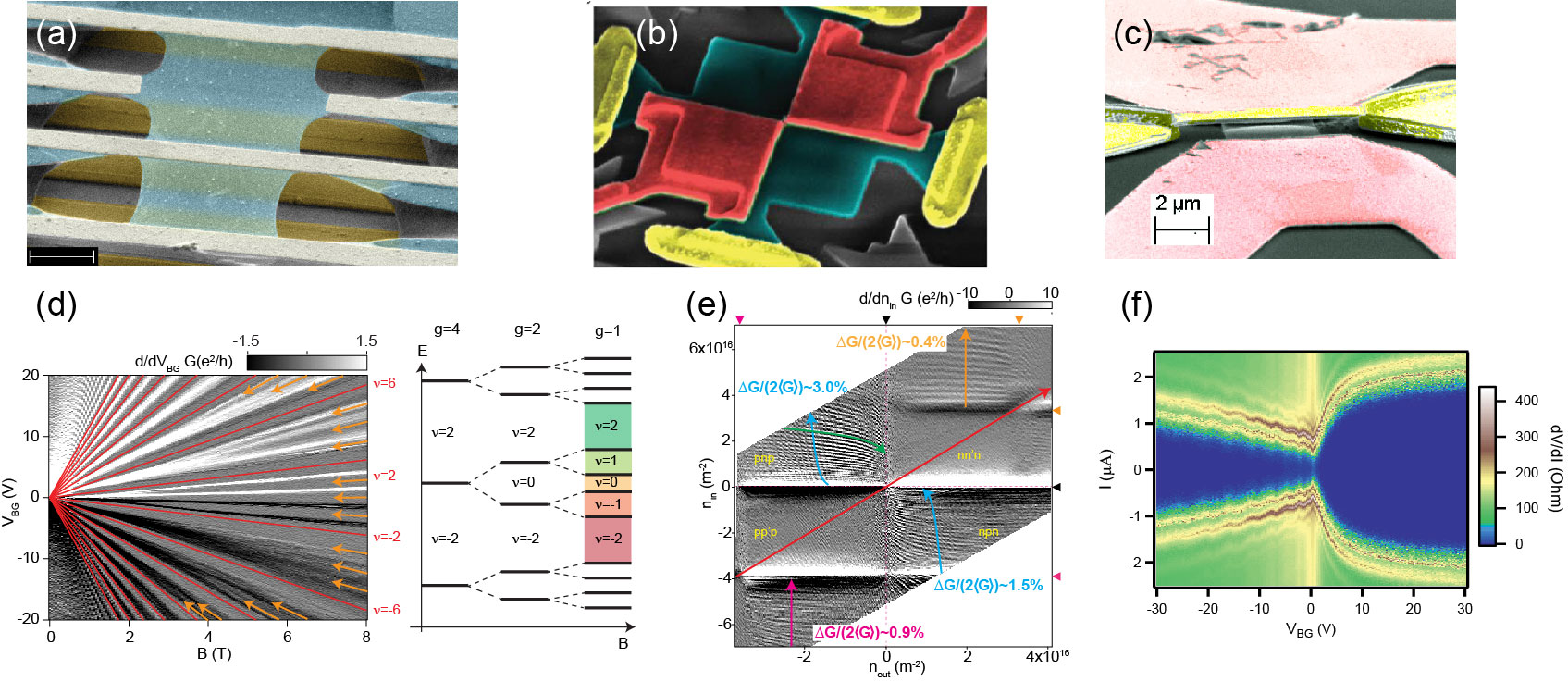 Funding: NCCR-QSIT, SNI
R. Maurand, P. Rickhaus, P. Makk, S. Hess, E. Tovari, C. Handschin, M. Weiss and CS, Carbon 79, 486 (2014).
P. Rickhaus, R. Maurand, M. H. Liu, M. Weiss, K. Richter and CS, Nat. Commun. 4, 2342 (2013).
P. Rickhaus, M. H. Liu, P. Makk, R. Maurand, S. Hess, S. Zihlmann, M. Weiss, K. Richter and CS, Nano Lett. 15 (9), 5819-5825 (2015).
P. Rickhaus, P. Makk, M. H. Liu, E. Tovari, M. Weiss, R. Maurand, K. Richter and CS, Nat. Commun. 6, 6470 (2015).
P. Rickhaus, P. Makk, M. H. Liu, K. Richter and CS, Appl. Phys. Lett. 107 (25), 251901 (2015).
F. Freitag, J. Trbovic, M. Weiss and CS, Phys. Rev. Lett. 108 (6), 076602 (2012).
C. Handschin, P.Makk, P. Rickhaus, M.-H. Liu, K. Watanabe, T. Taniguchi, K. Richter, C. Schönenberger, Nano Lett. 17, 328 (2016).
Relevant papers (keyword: GRAPHENE):
2023
Edge Contacts to Atomically Precise Graphene Nanoribbons
W. Huang, O. Braun, D. I. Indolese, G. B. Barin, G. Gandus, M. Stiefel, A. Olziersky, K. Müllen, M. Luisier, D. Passerone, P. Ruffieux, C. Schönenberger, K. Watanabe, T. Taniguchi, R. Fasel, J. Zhang, M. Calame, and M. L. Perrin.
ACS Nano 17, 18706 (2023)
[Abstract ]


Bottom-up-synthesized graphene nanoribbons (GNRs) are an emerging class of designer quantum materials that possess superior properties, including atomically controlled uniformity and chemically tunable electronic properties. GNR-based devices are promising candidates for next-generation electronic, spintronic, and thermoelectric applications. However, due to their extremely small size, making electrical contact with GNRs remains a major challenge. Currently, the most commonly used methods are top metallic electrodes and bottom graphene electrodes, but for both, the contact resistance is expected to scale with overlap area. Here, we develop metallic edge contacts to contact nine-atom-wide armchair GNRs (9-AGNRs) after encapsulation in hexagonal boron-nitride (h-BN), resulting in ultrashort contact lengths. We find that charge transport in our devices occurs via two different mechanisms: at low temperatures (9 K), charges flow through single GNRs, resulting in quantum dot (QD) behavior with well-defined Coulomb diamonds (CDs), with addition energies in the range of 16 to 400 meV. For temperatures above 100 K, a combination of temperature-activated hopping and polaron-assisted tunneling takes over, with charges being able to flow through a network of 9-AGNRs across distances significantly exceeding the length of individual GNRs. At room temperature, our short-channel field-effect transistor devices exhibit on/off ratios as high as 3 × 105 with on-state current up to 50 nA at 0.2 V. Moreover, we find that the contact performance of our edge-contact devices is comparable to that of top/bottom contact geometries but with a significantly reduced footprint. Overall, our work demonstrates that 9-AGNRs can be contacted at their ends in ultra-short-channel FET devices while being encapsulated in h-BN.

---
2022
Phase-dependent microwave response of a graphene Josephson junction
R. Haller, G. Fülöp, D. Indolese, J. Ridderbos, R. Kraft, Luk Yi Cheung, J. H. Ungerer, K. Watanabe, T. Taniguchi, D. Beckmann, R. Danneau, P. Virtanen, and C. Schönenberger.
Phys. Rev. Research 4, 13198 (2022)
[arXiv:2108.00989 ] [ Open Data ] [Abstract ]


Gate-tunable Josephson junctions embedded in a microwave environment provide a promising platform to in-situ engineer and optimize novel superconducting quantum circuits. The key quantity for the circuit design is the phase-dependent complex admittance of the junction, which can be probed by sensing an rf SQUID with a tank circuit. Here, we investigate a graphene-based Josephson junction as a prototype gate-tunable element enclosed in a SQUID loop that is inductively coupled to a superconducting resonator operating at 3 GHz. With a concise circuit model that describes the dispersive and dissipative response of the coupled system, we extract the phase-dependent junction admittance corrected for self-screening of the SQUID loop. We decompose the admittance into the current-phase relation and the phase-dependent loss and as these quantities are dictated by the spectrum and population dynamics of the supercurrent-carrying Andreev bound states, we gain insight to the underlying microscopic transport mechanisms in the junction. We theoretically reproduce the experimental results by considering a short, diffusive junction model that takes into account the interaction between the Andreev spectrum and the electromagnetic environment, from which we deduce a lifetime of ~17 ps for non-equilibrium populations.

---

2D materials shrink superconducting qubits
C. Schönenberger.
Nature Materials (News & Views) 21, 381 (2022)
[Abstract ]


The exceptional quality of hexagonal boron nitride crystals that can be cleaved into few layers provides ultrathin dielectrics, thereby opening a route to ultrasmall capacitors with large capacitances. With such capacitors, the superconducting transmon qubit is scaled down by orders of magnitude. % Associated Content: `Hexagonal boron nitride as a low-loss dielectric for superconducting quantum circuits and qubits' by J. J.-I. Wang et al. Nature Materials 21, 398–403 (2022)

---
2021
2020
2019
2018
2017
2016
2015
2014
2013
2012
Homogeneity of Bilayer Graphene
F. Freitag, M. Weiss, R. Maurand, J. Trbovic, and C. Schönenberger.
Solid State Communications 152, 2053-2057 (2012)
[arXiv:1207.4424 ] [Abstract ]


We present non-linear transport measurements on suspended, current annealed bilayer graphene devices. Using a multi-terminal geometry we demonstrate that devices tend to be inhomogeneous and host two different electronic phases next to each other. Both of these phases show gap-like features of different magnitude in non-linear transport at low charge carrier densities, as already observed in previous studies. Here, we investigate the magnetic field dependence and find that both features grow with increasing field, the smaller one with 0.6meV/T, the larger one with a 5-10 times higher field dependence. We attribute the larger of the two gaps to an interaction induced broken symmetry state and the smaller one to localization in the more disordered parts of the device.

---

Spontaneously Gapped Ground State in Suspended Bilayer Graphene
F. Freitag, J. Trbovic, M. Weiss, and C. Schönenberger.
Phys. Rev. Lett. 108, 76602 (2012)


---

Quantum Hall Effect in Graphene with Superconducting Electrodes
P. Rickhaus, M. Weiss, L. Marot, and C. Schönenberger.
Nano Letters 12, 1942 (2012)


---
2011
Conductance fluctuations in graphene devices with superconducting contacts in different charge density regimes
F. Freitag, J. Trbovic, and C. Schönenberger.
Phys. Status Solidi B (arXiv:1108.4599) 248, 2649 (2011)


---
2010
Superconductivity-enhanced conductance fluctuations in few layer graphene
J. Trbovic, N. Minder, F. Freitag, and C. Schönenberger.
Nanotechnology 21, 274005 (2010)


---