This projects aims at a single electron pair source which delivers (in principle) on demand pairs of spin-entangled electrons, whereof each electron may leave the device through different arms. While similar photonic EPR sources are widely used in optics in e.g. in teleportation experiments, generating and transporting entanglement in the solid state with electrons is non-trivial due to the strong interaction of the quasiparticles with other particles and excitations. However, in graphene the spin dephasing time now exceeds nanoseconds, yielding a coherent transport distance for spin of impressive 1 mm using the known Fermi velocity of graphene. Hence, entanglement can (in principle) be generated at macroscopic distances beyond millimeters in the solid state.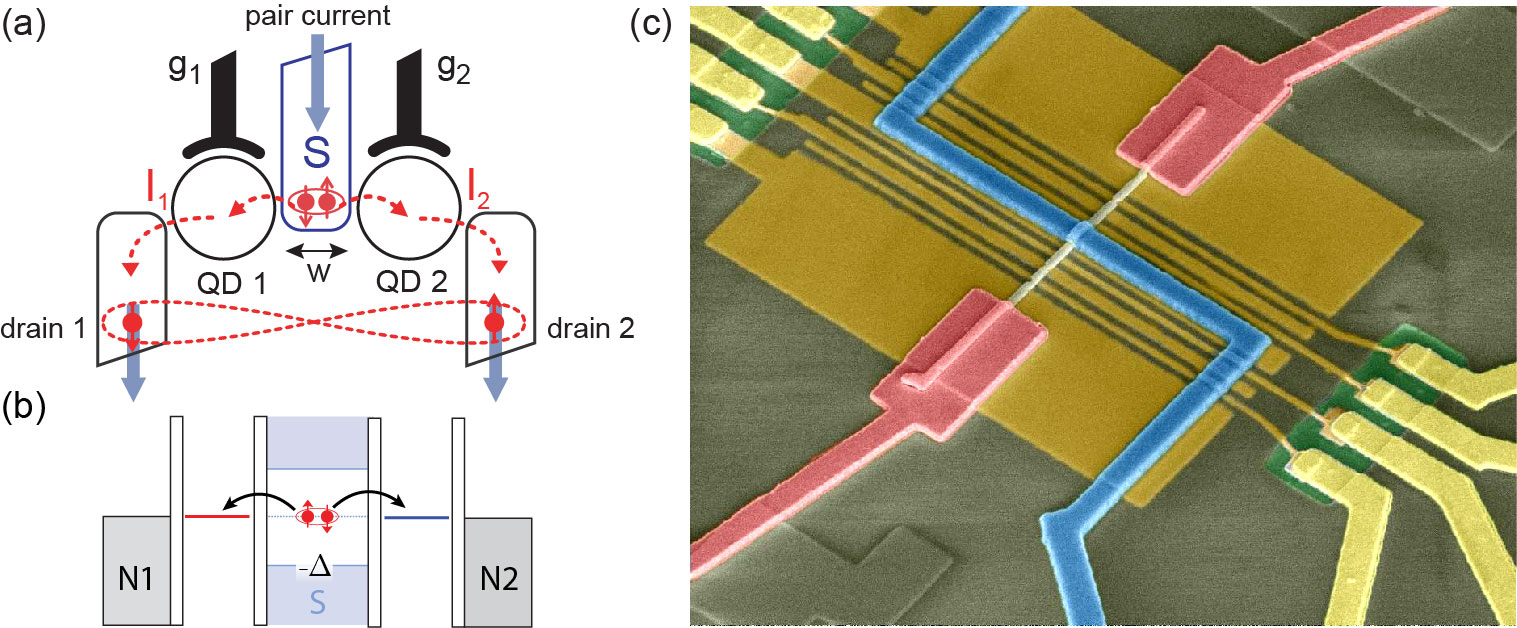 In the current project we start with a Cooper-pair as a naturally spin entangled electron state (in a conventional BCS superconductor the pair is a spin singlet). The device of interest consists of two quantum dots (QDs) tunnel coupled closely together to a central superconductor (see image). Due to interaction effects, which are enhanced in QDs, the "splitting" of the Cooper-pair may become the dominating transport process. In this non-local process, one of the electron tunnels to the left and the other to the right QD. As long as the spin degree is not measured, the states remains entangled. Splitting efficiencies beyond 90% have been realized. We have realized Cooper-pair splitter (CPS) devices in carbon nanotube and semiconducting nanowire based quantum devices and demonstrated large splitting efficiency and to some extend control down to single electron pairs. The devices can also be used to search for Majorana-like bound states as the topology is very much similar.
Current challenges are: better control of individual tunneling rates (in and out tunneling); detection of the entanglement and its life time; manipulation of the singlet state using the quantum toolbox, e.g. electron spin-resonance, detection of a coherent non-local coupling between the two QDs, non-local Andreev bound states.
Funding: ERC-QUEST, SNF
Relevant papers (keyword: CPS):
2022
2018
2017
2016
2015
2014
2013
2012